Statute of Limitations on Personal Injury Claims
Oct. 16, 2023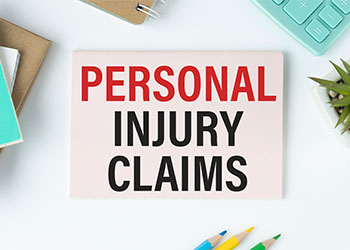 Life is full of uncertainties. One day, you set out on a fine weekend morning to go shopping, and on the way to your destination, another driver crashes into you and you're on the way to the hospital.
Or, you actually get to your destination, which is your favorite retailer. While walking the aisles, you slip and fall on a wet surface or on an unnoticed object. You suffer back and neck injuries. In both of these circumstances – a car accident or a slip and fall – the other party likely has insurance, so you can make a claim.
When you file your claim, however, the at-fault party's insurer does everything in their power to pin the blame on you, so they can low-ball or deny your settlement. If working with the insurer leads to a dead-end, or to a proposed settlement that is unjust, you may want to file a personal injury lawsuit.
There are legal requirements for filing a lawsuit, and one of them concerns the timeliness of the filing, or what is called the statute of limitations. You can't look back years later and decide to file a claim.
If you or a loved one has been injured due to someone else's actions or negligence in or around Detroit, Michigan, contact us at the Ratton Law Group PC. Our legal team will help you assemble the documentation and supporting evidence to make your claim and will then negotiate with the insurer on your behalf.
If a personal injury lawsuit is necessary, we have the resources to help you throughout the entire process. Our goal is to treat you with compassion and fight for the just compensation for the injuries you've sustained through no fault of your own.
What Is a Statute of Limitations?
To bring criminal charges against a person or to file a civil action against an individual, states legislate time-frames. These time frames are known as the statutes of limitations. Homicide and sometimes even attempted homicide usually have no statute of limitations. Charges can be brought as soon as the evidence is uncovered, even if it's decades later.
When it comes to civil actions, such as filing a lawsuit to recover for personal injuries, states have various statutes of limitations. Tennessee, Kentucky, and Louisiana, for instance, have the shortest at one year. In those states, if you don't file to recover for your injuries within one year of the date of your injuries, the case will most likely be rejected.
Michigan Compiled Laws Section 600.5805 states: "A person shall not bring or maintain an action to recover damages for injuries to persons or property unless, after the claim first accrued to the plaintiff or to someone through whom the plaintiff claims, the action is commenced within the periods of time prescribed by this section…. [T]he period of limitations is 3 years after the time of the death or injury for all actions to recover damages for the death of a person or for injury to a person or property."
So, you have three years from the date of your injuries to file a personal injury lawsuit in Michigan. Note, however, that this does not mean you have three years to file an insurance claim. Most insurance policies have prompt reporting clauses, which means you have days, weeks, or maybe months, at most. The longer you wait, the more suspicious the insurer is going to be of your claim, and after a certain period of time, they may even choose to reject your claim.
Pursue the Compensation You Deserve
When you're injured because of someone else's negligence or other actions, time is of the essence. You need to assemble all the documentation and evidence necessary to prove the other party was at fault and then initiate the claims process. If the insurer puts your claim on the back burner, lowballs, or denies your settlement, then a personal injury lawsuit may be in order.
Contact us immediately at the Ratton Law Group PC. Our team of personal injury attorneys can help you navigate the claims process and even negotiate with the insurer for the optimal compensation possible. If necessary, we can also launch a personal injury lawsuit. Trust us to fight for what's due you.